WELCOME TO THE ONLINE HOME
OF HESSTON RECREATION & COMMUNITY EDUCATION

Hesston Recreation's SUMMER 2017 catalog available!
The catalog is emailed to our catalog emailing list. Also, 300 are printed and are delivered to local businesses, including the Hesston Public Library.
If you would like to receive monthly e-mails regarding upcom
ing sign-up deadlines and program dates, please send an e-mail to
Christine.Wyrick@usd460.org
.
You may use credit and debit cards to pay for registrations
by calling 620-327-2989. Credit/debit card payments will have a $4 handling fee added. We also accept payments with check, cash and debit/credit cards at our office.LOOK FOR THE FALL 2017 CATALOG - OUT IN MID-AUGUST!
​
​
Outdoor soccer offered for boys and girls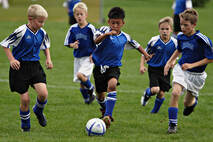 ---
Girls volleyball set this fall for 5th-6th graders

Volleyball will be offered this fall for girls in the 5th and 6th grades. Matches will be played in Hesston and out of town, starting in early September.
The cost of $25 includes a team T-shirt.
DEADLINE: Due Thursday, Aug. 3.

Click here for more information and a registration form.
---
Flag football new this fall for K-6th
Flag football is new to Hesston Recreation's fall sports lineup. There will be three coed divisions: kindergarten & 1st grade; 2nd & 3rd grade; and 4th through 6th grades. The cost of $30 includes a T-shirt.
DEADLINE: Due Thursday, Aug. 3.
Click here for more information and a registration form.
---
Badminton open gyms set for those 16 and older
​An open gym for those interested in playing badminton is now being offered for those 16 and older. The Hesston High School auxiliary gym is open from 7-10 p.m. Saturdays for the sport.
Participants should bring a badminton racquet. The events are free.


---
Emma Creek 5k photos/results available!
To see full results from the Emma Creek 5k on Saturday, April 29, go to timerguys.com.
​To see the Top 10 and age-group winners, click here.
For race photos and photos taken in front of the new photo background, go to rothimages.com.
Thanks for registering for the Emma Creek 5k. We had a blast - despite the rain and cold! You all rock!
For more information, call Hesston Recreation at 620-327-2989 or email christine.wyrick@usd460.org.
---
Hesston Recreation is on Facebook
See the latest news about Hesston Recreation on our new Facebook page! Just type in "Hesston Recreation" and our page will appear!
---
Noon-hour basketball offered for men
Join the fun, fellowship and exercise of noon-hour basketball from 11:45 a.m. to 1 p.m. on Mondays, Wednesdays and Fridays in the HS auxiliary gym.
Please use the north parking lot and enter through the door by the wrestling room.
A locker room will be available for changing and showers, but you'll need to bring your own towel.
---
---
Need a registration form for a Hesston Rec sport?
Did your child lose their Hesston Rec registration from on the way home from school? If you need a registration form?
Click here!
---
Hesston Recreation & Community Education
Director: Ryan Magill
Office manager: Christine Wyrick
HOURS: 8:30 a.m. to 4:30 p.m. Mondays-Thursdays & 8:30 a.m. to 3:30 p.m. Fridays
303 Park Road
P.O. Box 927
Hesston, KS 67062
620-327-2989 or 620-327-7128
Facebook: Hesston Recreation
ryan.magill@usd460.org and
christine.wyrick@usd460.org